60 Years!
That's how long Applefest has been drawing thousands of visitors from around the country to the Bayfield area.
This annual event, established in 1962, is a celebration of all things fall — including apples, of course!

Here, we'll share our list of the top things to do (and eat!) during the 2022 Bayfield Apple Festival.
When Is Applefest 2022?
The Bayfield Apple Festival, praised as one of Wisconsin's best fall festivals by Wisconsin Trails magazine, will take place over the weekend of October 7th – 9th.
Throughout the weekend, expect a variety of unique events and tasty apple treats during this historic fall festival.
The Best Events During the 2022 Bayfield Apple Festival
1. Food and Craft Vendors
Apple brats.
Apple pie.
Apple cider.
Caramel apples.
Apple beer.
For this beloved fall festival, 50,000+ people fill the streets of our tiny town. We're guessing it has something to do with all the delectable apple treats!
If you love apples, expect to find every apple concoction you've ever dreamed of, along with art booths, local food vendors, street entertainers, raffles, crafts, pie contents, and more.
Where: Downtown streets of Bayfield
When: Every day of the festival, from 10 a.m. to 5 p.m.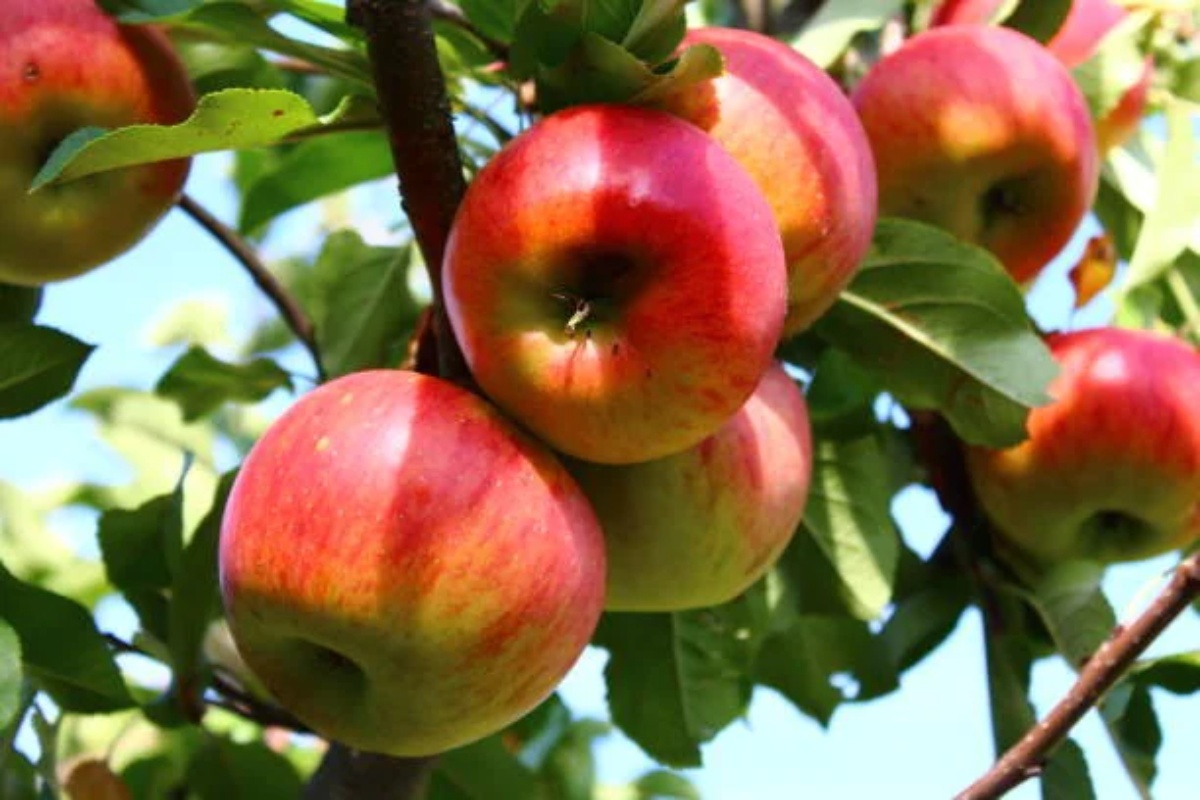 Photo credit: istockphoto.com
2. Bayfield Apple Festival Farmer's Market
Along with food and crafts vendors, you'll find the Bayfield Apple Festival Farmer's Market. Browse through a vast selection of artisan items and produce from local sellers.
Where: South First Street, Bayfield
When: October 7, 2022, from 10:00 AM to 3:00 PM
3. Bayfield Orchard Events
Where: Various Bayfield Orchards and Wineries
When: All weekend long, various times (check store hours)
In addition to the happenings in downtown Bayfield, several orchards, wineries, and farms offer special events during Applefest.
Throughout Bayfield's countryside, you'll find various family-owned orchards offering apple butter, jams, jellies, fresh apples, wine, and fun events.
Here are a few of our favorites:
Erickson's Orchard & Country Store
Three words: apple cider donuts.
Their famous apple cider donuts alone are worth the trip to Erickson's. You'll also find other mouthwatering apple goodies, including:
Caramel apple muffins
Homemade pies
Apple bread
Pre-picked or pick your own apples
Pasteurized apple cider
Caramel apple scones
Apple pie sticks
Cutie pies
Along with freshly baked apple treats, enjoy their orchard maze, hayrides, festival food, and craft vendors — both Applefest weekend and the weekend before (October 2nd and 3rd).
Bayfield Winery and Blue Ox Cider
Ever heard of a "Sparkling Cider Float"? If not, add this unique treat to your "must-taste" list for Applefest.
Back by popular demand, the Bayfield Winery will be serving their "Sparkling Cider Floats". Featuring their own non-alcoholic Sparkling Cider and Tetzner's Ice Cream, you'll want to get one of these floats before they sell out.
This family-owned winery also offers wine and cider tasting, surrounded by lovely views of the vineyard.
Along with chili, chili dogs, and hot dogs, Hauser's Superior View Farm offers apples served "every which way" for Applefest weekend, including:
Caramel apples
Apple donuts
Apple fritters
Pulled pork sandwiches with apple butter barbeque sauce
Apple brats
Apple pies
Free cider samples from the Apfelhaus Cidery, including the new "Apple Pie Cider" and non-alcoholic sparkling cider
Many families return to this historic farm year after year for the scenic hayrides through the orchards. Local legend "Bushdog" volunteers to drive the tractor, stopping along the way to make balloon animals for kids, explain a bit of history about the farm, and allow riders to pick a free apple fresh from the orchard.
If you dread trying to find parking in downtown Bayfield, the farm offers free shuttle service to and from Bayfield on Saturday and Sunday of Applefest. You can also bring your little ones to enjoy free pony rides on Saturday and Sunday!
The Town of Russell Community Club will be selling their apple pies and famous apple bars all weekend at Hauser's Farm, with proceeds benefiting local scholarship programs.
Photo credit: istockphoto.com
This sustainably managed orchard offers apple brats and apple mustard!
Their orchard store also features a selection of fruit butters, jellies, small batch jams, and apple cider, all produced in-house.
4. Fireman's Fish Fry
Enjoy an all-you-can-eat fish fry for a notable cause. Support the dedicated, hard-working crew of volunteer firefighters who keep Bayfield safe.
Where: Bayfield Lakeside Pavilion
When: October 8, 2022, 11:00 AM until sold out
5. Apple Peeling Contest
Every year, the Bayfield Apple Festival crowns an apple peeling champion for its Apple Peeling Content. Think you have the skills to create the longest apple peel? Register at the Grand Stage for this lighthearted contest.
Where: Bayfield Chamber & Visitor Bureau
When: October 8, 2022, 1:00 PM to 2:00 PM
6. King Coronation
Every year, Bayfield crowns an Applefest Queen. This year, watch the crowning of the first-ever Bayfield Apple Festival KING — Jakob Hansen of Erickson's Orchard.
Starting with a procession down Old Rittenhouse Avenue, this event winds up at the Bayfield Lakeside Pavilion for the ceremony.
Fun Fact: Our very own Esme Martinson was the Bayfield Apple Festival Queen in 2011!
Where: Bayfield Lakeside Pavilion
When: October 8, 2022, 6:45 PM to 8:00 PM
7. Live Music
Throughout the weekend, enjoy live music from area musicians. During the day, listen to the Big Top Chautauqua's Blue Canvas Orchestra. At night, many local pubs feature bands.
The Lords of Baltimore is playing once again at Morty's Pub. Check them out Friday night from 8:00 PM to 12:00 AM
Where: Throughout Bayfield
When: Various times throughout the weekend
8. The Grand Parade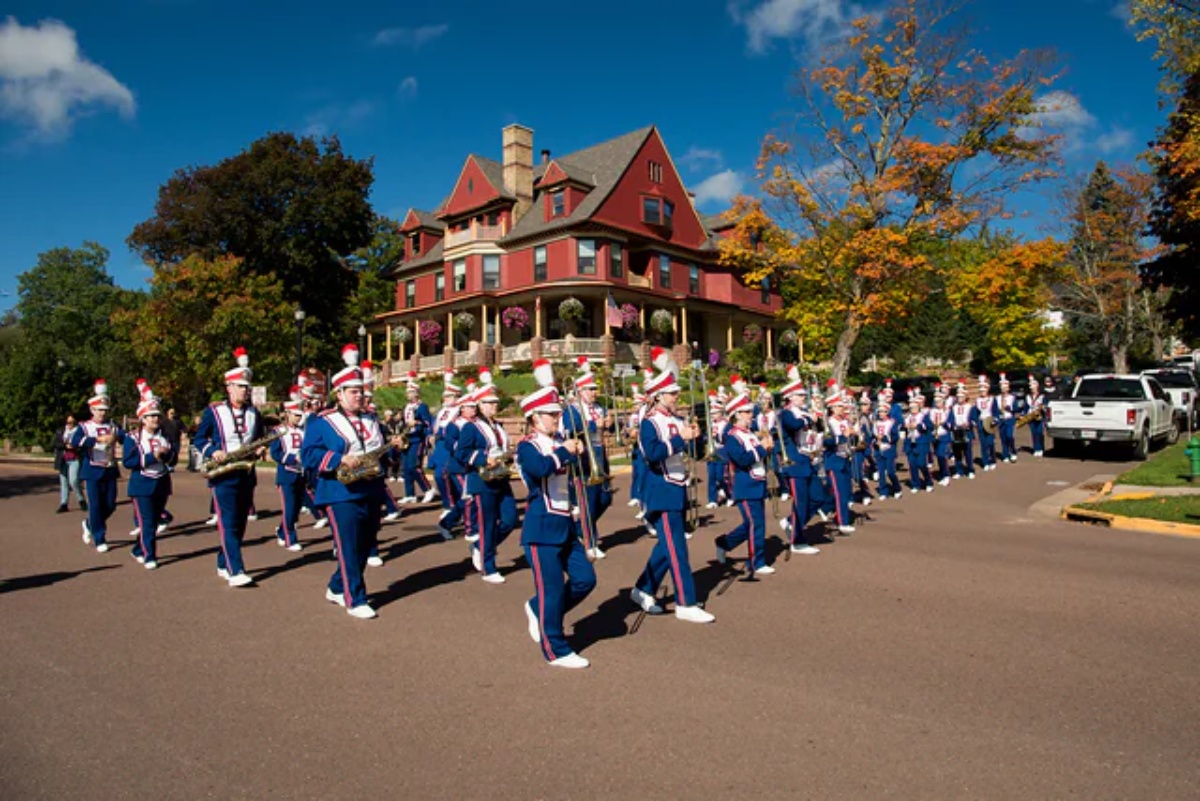 Photo credit: www.firstclickphoto.com
To close the 2022 Bayfield Apple Festival, come check out the Grand Parade.
Featuring the local high school band, exciting floats, and the Pipes and Drums of Thunder Bay, this is a great event for the entire family.
Where: The Grand Parade begins at the top of Rittenhouse Avenue and continues down the hill.
When: October 9, 2022, 2:00 PM
Bayfield Apple Festival 2022 — We Hope To See You There!
If you love crisp autumn air and apples, we hope to see you for the 60th Anniversary of Applefest!
Feel free to stop by our Bayfield real estate office at 14 S Broad St to say 'hello' in between all your apple taste-testing!
For more information on Applefest 2022, see the Bayfield Chamber's Schedule of Events.
Written by:www.superiorcopywriting.com